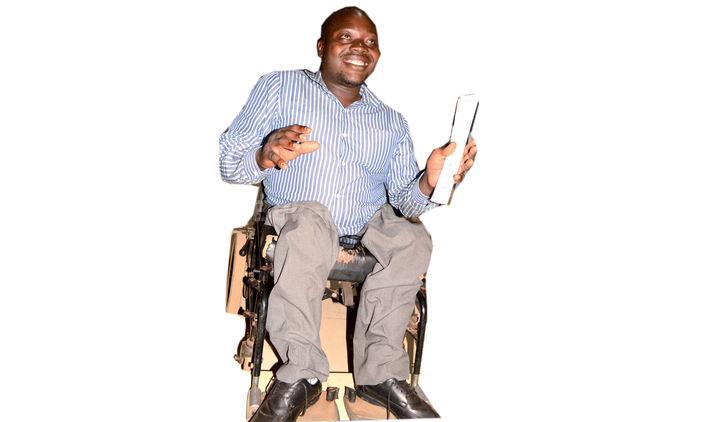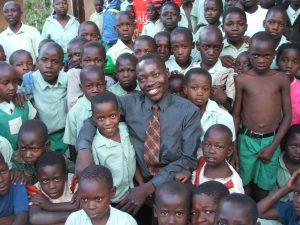 Kalyango Kasenene, known as Nelson. This is his story…
Nelson was born in Uganda in 1981. Just two years after being born, and in the midst of the Ugandan Bush War, Nelson fell ill. Nelsons family was large. Typically, his mother and father went out to work every day to try and make a living and enough money to feed their children. One day his mother went into town as she always did, however, when she came home she found a very sick Nelson. He was paralysed. He was just 3 years old and the nearest hospital was 50 miles away. She decided there and then she must try and save him and take him to the hospital. With all the fighting in the area, it took her three months to walk there. Unfortunately, when they arrived at the hospital the doctors could not save his legs.
Mum or "Big Muma" as she is know known, returned home with Nelson. Nelsons father, upon seeing him, refused to accept the disabled child due to the stigma attached to disabled persons at this time. In Uganda, a disabled child was seen as a curse from God. This was the beginning of the end for his parents relationship.
Nelsons mother decided to then move to Namayumba in the Wakiso District to live with her mother; Nelsons grandmother. She was determined that he would still go to school. Each day, he would crawl half a mile to school on unpaved dirt tracks and across the fields and through all weather. He was committed. He was determined. One day, his mother was in the local church where she met a missionary woman from Canada. Nelsons mother told the lady about her son Nelson crawling to school every day. This lady was astonished and agreed she would find a sponsor. She was true to her word and shortly afterwards, Nelson was now sponsored to go to school and did so until he completed teaching college.
When he returned, he had a dream to build a school. After all the struggle that he had growing up, he wanted to set up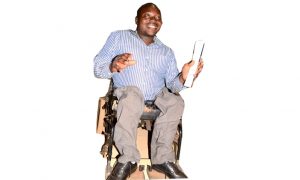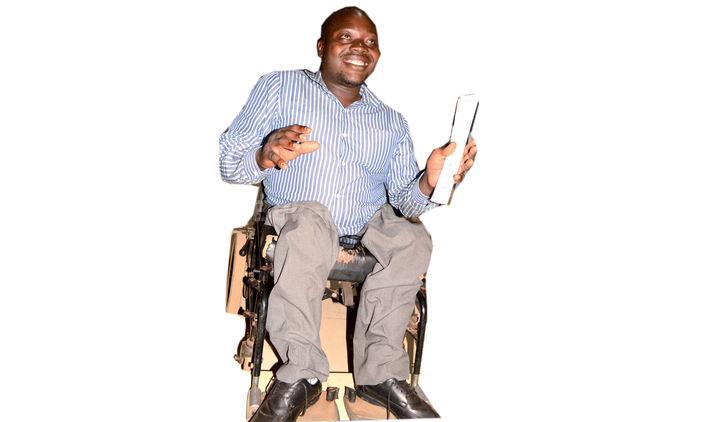 a school for children of disabilities, genders and religions. Unfortunately, he had no capital and the local politicians were very against a disabled person setting up a school. He did it anyway and when they would not grant him any land or buildings to teach in he managed to get a couple of blackboards and set up his school under a tree. The children started to come. However, the inspectors wanted to shut him down. He knew he couldn't let this happen so with the upcoming district elections he sat for the disability representations. He won in a whitewash. This gained him more respect from the local politicians and inspectors.
Despite all this, he was still getting threats from the inspectors to shut him down unless he improved the conditions at his so called school. he is called before a hearing and decides not to speak in Bugandan but in English to plead his case. It was at this time a small group of Japanese people were in town. They visited the hearing and just three days after the hearing, a lady visited Nelson after being so impressed by his speech. Her name was Yurie Yoshimi and upon returning to Japan she offers to pay for first building, desks and text books but simply asks if the school can be named after her. This is how Yurie Yoshimi school began.
Since then a hotel owner originall from the Dorset area called Colin, set up a link with St Catherine's Primary School. It was from here, through one of the parents, that YUYO was started with Juliet Pull. The charity has grown from strength to strength and now supports three schools in the community.
If you want to know more about the charity and the work we have carried out since, please feel free to get in touch.